Read this article for an introduction to the unit: megacities. Published by http://www.yearofplanetearth.org/
Urbanisation
An increase in the % of a countries population living in towns & cities.
Rural to Urban Migration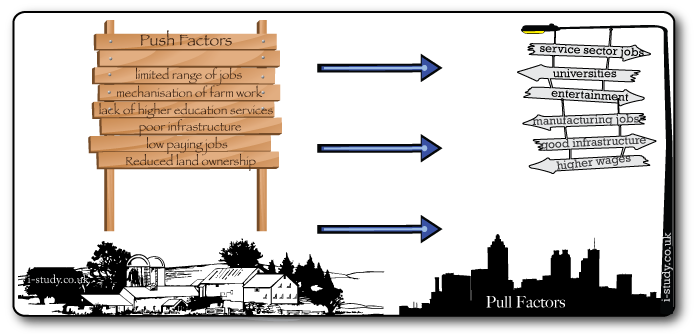 You should be able to explain the push and pull factors & add extra factors such as remittance payments.
Gentrification & Re-Urbanisation
London Docklands
Battersea Powerstation
Inward movements of people (centripetal movement)
Outward Movements of people (centrifugal movement)
Suburbanisation
The growth of towns & cities to include (engulf) surrounding villages/ rural areas.
Urban Sprawl
Unplanned & uncontrolled spread/growth of a city into the surrounding rural area.
Counter-urbannisation
The movement of population away from inner urban areas to a new town, a new estate, a commuter town or a village on the edge or just beyond the city limits/rural–urban fringe.
Counter-Urbanisation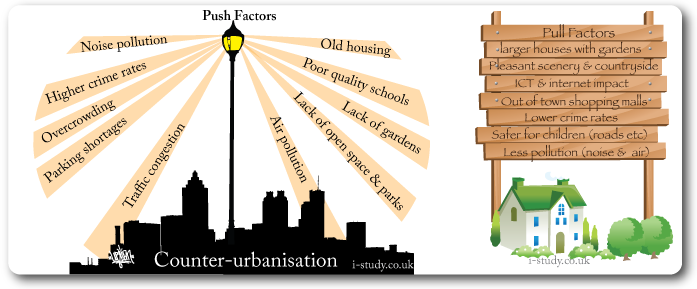 Decentralisation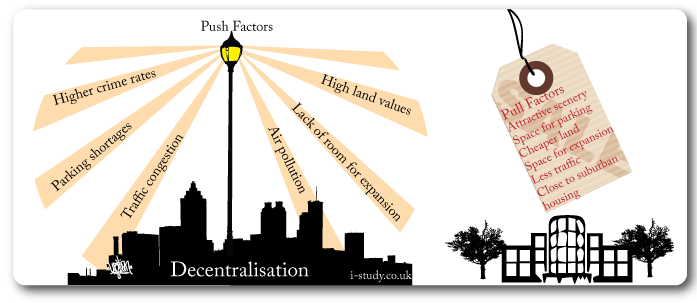 Natural change
Impact of natural increase in urban areas on population densities & distribution.
Global Megacities: cities with a population over 10 million.
Growth of modern cities (podcast) 2011

Concentric Ring Model: Burgess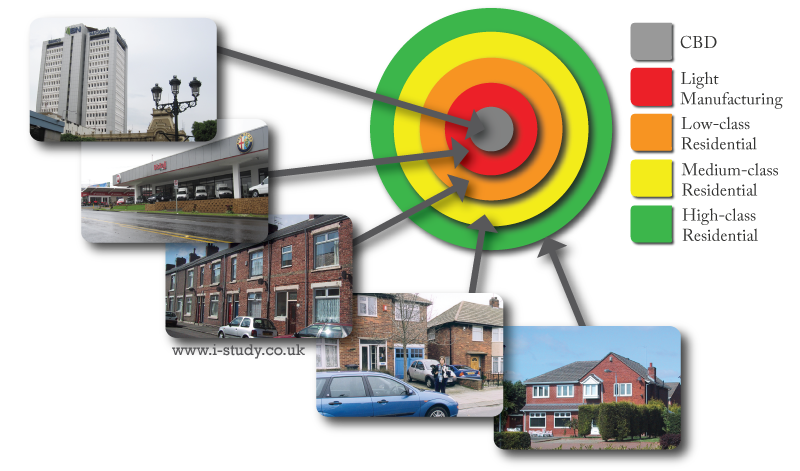 You should be able to explain the pattern shown in the model and identify its weaknesses.
Sector Model: Hoyt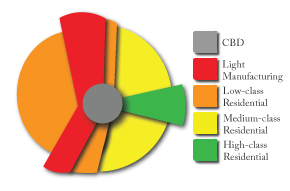 CBD Core -periphery model
Newcastle (UK) City Centre Land Use
3)
4)

LEDC City problems & solutions - favelas/slums
CASE STUDY: Rocinha favela, Rio de Janeiro
Go this page: Rio Case Studies
Make notes about the favela in Rio -
What are they?
Where are they?
Why do people live in them?
What services do they have?
What rights do they get/have?
What sense of community is there?
How the authorities cope with them?
The City a System
The city as a system Describe the city as a system in terms of:
• inputs—energy, water, people, materials, products, food (urban agriculture)
• outputs—solid, atmospheric and liquid waste, noise, people.
Distinguish between a sustainable circular system where inputs are reduced and outputs are recycled and an
unsustainable (open/linear) city system with uncontrolled inputs and outputs.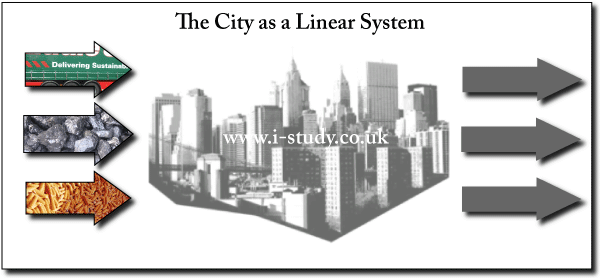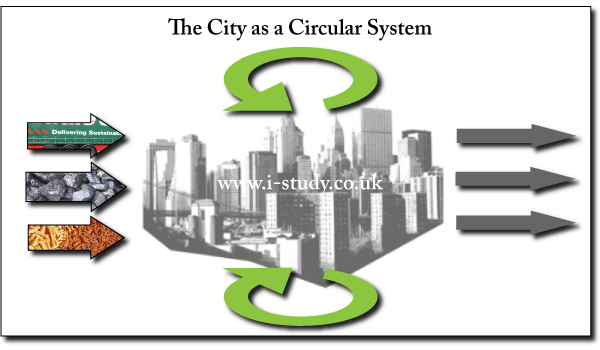 Sustainable Cities
In your groups research & present back a powerpoint or movie Case Study.
It should be no longer than 5 minutes, .
• Curitiba (Brasil), Calgary (Canada) - examples of sustainanble measures introduced & further plans.
• The Urban Ecological Footprint - what is it, how is it measured, how can cities reduce it etc.
Urban ecological footrprint webpage (just to get you started).
China's eco-cities: Sustainable urban living in Tianjin (BBC 2012)
Rooftop Gardens, New York (Guardian 2011)
Brasilia (Guardian 2011)
What makes a sustainable city (Guardian 2012)
Dubai & human waste recycling (BBC 2013)
Sustainable construction methods: London Olympics

Sustainable Strategies Case Studies
You have to have a case study & be able to evaluate it for the following strategies (for urban areas):
Socially sustainable housing management
Environmentally sustainable pollution management
One strategy to control rapid city growth resultingfrom in migration.
Environmentally Sustainable Pollution Management
Londons Electric Cars (Guardian 2011)
CASE STUDY: Socially Sustainable Housing: Singapore HBD
P.450/1 Waugh - notes about:
Existing problems
What is the HDB & what has it done.
In what ways are the projects socially sustainable?
Eco-cities
Tianjin Eco-City: BBC video & BBC article (watch & read & make notes about its aim, some of the problems it faces,
the challenges of affordability and sustainability
Eco-City examples (videos)