Read this article for an introduction to the unit: megacities. Published by http://www.yearofplanetearth.org/
Centripetal Movements
Inward movements of people (centripetal movement)
Urbanisation: An increase in the % of a countries population living in towns & cities.
Rural to Urban Migration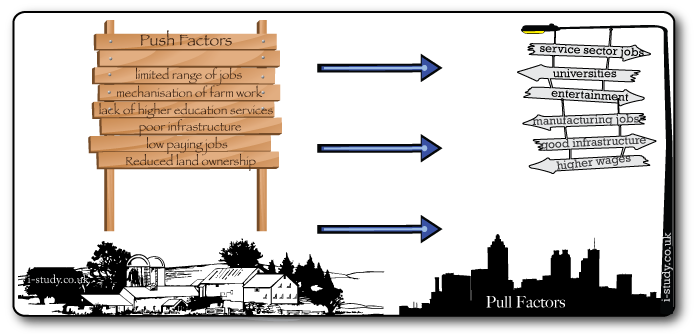 You should be able to explain the push and pull factors & discuss extra factors such as the importance of remittance payments.
Centrifugal Movements
Outward Movements of people (centrifugal movement)
Suburbanisation: The growth of towns & cities to include (engulf) surrounding villages/ rural areas.
Urban Sprawl: Unplanned & uncontrolled spread/growth of a city into the surrounding rural area.
Counter-urbanisation: The movement of population away from inner urban areas to a new town, a new estate, a commuter town or a village on the edge or just beyond the city limits/rural–urban fringe.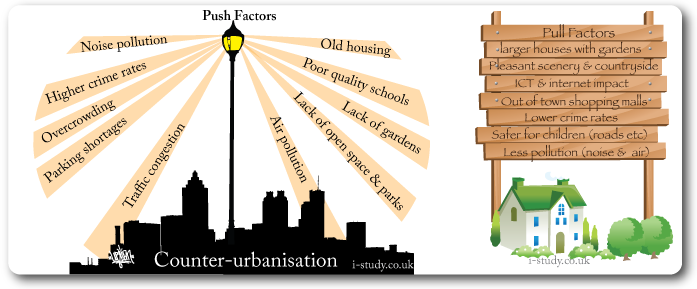 Decentralisation: the movement of retail and services (shops and offices) to out of town or edge of town locations.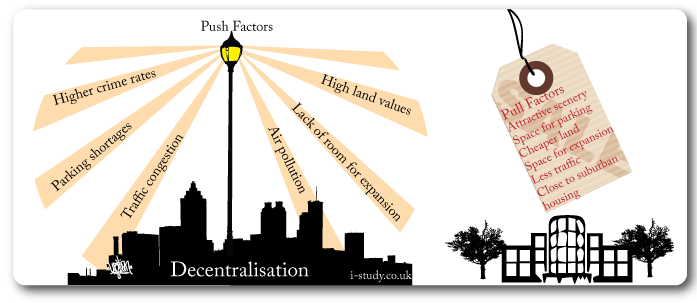 Global Megacities
Global Megacities: cities with a population over 10 million.
Growth of modern cities (podcast) 2011

Land Use Models
Concentric Ring Model: Burgess, based on Chicago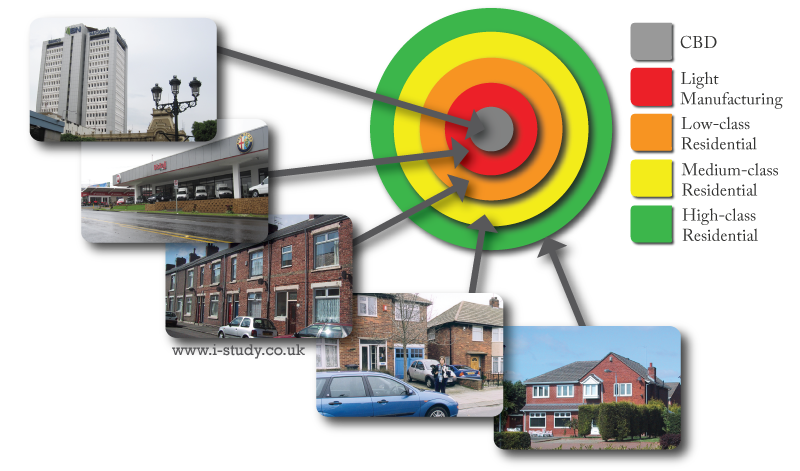 You should be able to explain the pattern shown in the model and identify its weaknesses.
Sector Model: Hoyt
This model introduced the idea that lines of transportation would have a significant impact on land-use zoning. Industry is likely to locate along routes of transportation (road and rail) to receive raw materials and to deliver the final product.
Workers in these industries were likely to live close the industries (lack of transport and perhaps accomodation provided by the industries).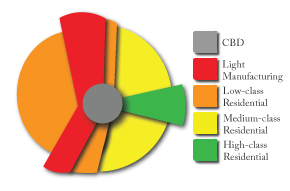 Brownfield Sites
Definition:
Read factfile - UK brownfield sites
What are brownfield sites? Why are they often more expensive to develop?
UK brownfield development issues (2001)
London Olympic Park: Read the following articles and make notes about the site of the olympic park - where, clean-up required, beenfeits to the area: pdf article, olympic site.
Battersea power station redevelopment
Greenfield Sites
LEDC City problems & solutions - favelas/slums
CASE STUDY: Rocinha favela, Rio de Janeiro
Go this page: Rio Case Studies
Make notes about the favela in Rio -
What are they?
Where are they?
Why do people live in them?
What services do they have?
What rights do they get/have?
What sense of community is there?
How the authorities cope with them?