Describe and explain the growth of leisure facilities and tourism in relation to the main attractions of the physical and human landscape in an area or areas selected for study.
Tourism is a major industry for many countries.  European countries such as France and Italy regularly top the international tourism tables as their distinct culture, architecture and history attract hordes of visitors.  Many developing countries possess unspoilt natural environments such as beaches and coral reefs, rainforest and savannah.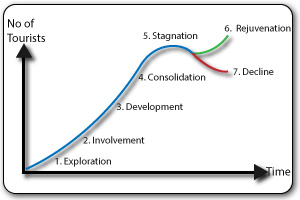 Whilst tourism can bring many benefits such as foreign income and employment, destinations face the challenge of ensuring that they don't ruin the original attraction of the place.  Many destinations have gone through rapid expansion only to suffer decline when they lose their charm and tourists go elsewhere.  The diagram on the right shows the typical lifecycle on many resorts over time.  Resorts must protect the environment and become more sustainable if they are to continue to thrive.
Costa Rica, Central America
Costa Rica has invested heavily in establishing tourism and has become globally recognised as a destination.  It is blessed with abundant natural attractions and realised the importance of protecting and promoting these. Tourism has grown rapidly through the last 20 years and Costa Rica has put in place rules to protect the environment and sell itself as an ecotourism destination.  No development is allowed within 50m of  a beach in virtually all areas which keeps the beaches palm lined and looking untouched.
Main Physical Attractions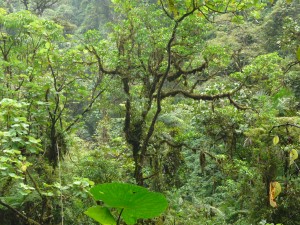 Tropical rainforest
Vast expanses of Costa Rica are virgin rainforest that has abundant wildlife.  Numerous National Parks have been established to protect the rainforest and provide tourists easy access to them (treks, guided tours along paths, wildlife lodges etc).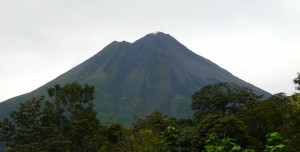 Volcanic landscape
Arenal volcano, an active volcano that regularly erupts with spectacular lava flows.  Many hotels are located around the volcano to get great views.  Numerous hot springs emerge on its slopes and resorts have natural thermal pools and rivers that attract many guests.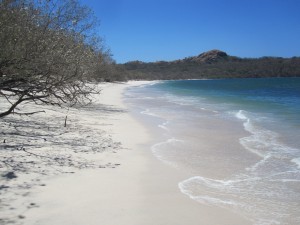 Beaches
Being an isthmus between the Caribbean and Pacific Ocean beaches are in plentiful supply.  In parts they are black beaches from the volcanic soils, in other areas they are gleaming white sand.  The latitude of Costa Rica (7 degrees North) results in warm sea temperatures ideal for bathing in.
Turtle breeding: many of the beaches on both coasts are used by turtles to lay their eggs.  A wide range of turtles visit the beaches throughout the year and are a major tourist attraction.  Tours of this are generally regulated and wardens are employed to protect against poachers.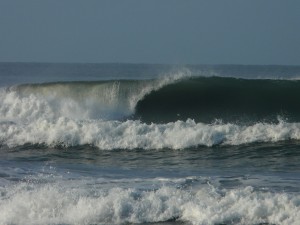 Surf: the expanse of Pacific Ocean allows the wind to build up strong waves that provide ideal surfing conditions along the Pacific coast.  Surfing is a popular sport and attracts people and competitions from around the word.
Rivers: the steep terrain and high rainfall in the wet season creates powerful rivers which have become used for white water rafting and kayaking.
Growth of facilities
Infrastructure: expansion of the main airport in San Jose to have a second terminal to cope with increased tourism numbers.  A second airport has been built in the North of the country (Liberia) mainly for tourists visiting the major resorts in the region.
Resorts: the main global hotel chains have established large resorts often in the North of the country where the land is flat and the beaches are gleaming white.  They include Hilton, Four Seasons, Best Western, Mariott.
Effects of Tourism

Demonstrate an understanding that the effects of a growth in tourism are generally positive and that careful management is needed if problems are to be avoided.
Positive Effects
Employment: tourism generates a vast range of jobs for the local population.  Hotel staff, tour guides, chefs, waiters, bar workers, taxi drivers are all directly involved.  Local farmers, manufacturers of furniture, electricians, plumbers, mechanics etc are also involved in supporting the industry so the benefit spreads through the economy.
Foreign Earnings: tourists bring in money to the economy and tend to spend more freely than when they are in their normal routine.  This additional money that is brought into the economy is vital for many developing countries that don't have large export industries.
Infrastructure: tourism often leads to investment in infrastructure which can also benefit the local population.  Transport networks are often upgraded, electricity, internet and water infrastructure need to be high quality and reliable for hotels and resorts to be able to function effectively.
Negative Effects
Environmental damage:  tourism inevitably causes some environmental damage as land needs to be cleared for hotels, transport creates pollution and waste is generated.  Many countries like Costa Rica are increasingly trying to reduce the impact of tourism and make it more sustainable.
Water depletion: one of the major issues facing destinations is the overuse of freshwater supplies.  Tourism is a water-hungry industry with pools, landscaped gardens, tourists taking many showers etc.  The Costa del Sol in Spain in a classic example of a destination that has depleted its water reserves and now has to desalinate sea water in the Summer months which is  very expensive.
Cultural impact: tourism often dilutes and changes local cultures as tourism brings different dress styles, cuisines, music, languages and attitudes.
Seasonal unemployment:  many of the jobs are only necessary during the busiest months which leaves many people unemployed for the rest of the year.  This can lead to social problems especially in the local populations don't continue their traditional economic activities (farming, fishing etc).
Marbella: Costa del Sol, Spain
Marbella was traditionally a small Spanish town with a fishing and farming industry.  It has developed into a well-known tourist destination and its population swells from approximately 200 000 people to over a million in the summer months.
Tourism generates many jobs and the construction industry boomed as hundreds of thousands of holiday homes were built in the surrounding area.  The money generated has enabled the hospital to be expanded, the road networks upgraded, a marina for leisure boats to be built and public parks to be created and maintained.
The negative impacts have been that  the beaches are generally polluted with litter, the water quality in the sea deteriorates significantly as the sewage systems struggle to cope in the Summer.  Desalination plants have been built to ensure freshwater is available throughout the dry summer.  Many of the traditional jobs have disappeared as the local population can earn more from tourism related activities.  Many of the businesses are owned by foreign people and English is widely spoken by locals and foreign residents.